Being a resident of Colorado I was able to spectate the USA Pro Cycling Challenge, or Tour of Colorado. For those of you who don't know this race was huge because it is the first big tour in Colorado since the Coors Classic ended in the late '80's. The race was in the mountains most of the week after the start in Colorado Springs on Monday. The last stage started in Golden and ended with circuits in Denver. Where I live in Lakewood is pretty much sandwiched between Golden and Denver. This is the biggest race I had ever been to. The final stage that I watched had over 250,000 people spectating. The coolest part about the race was that it went up Lookout Mountain, around the two mesas in Golden and then downtown into Denver on the roads I ride all of the time! I watched the start of the race in Golden and I got to see the Schlecks and Tour champion Cadel Evans among other top level pros. The finish of the race was at the Civic Center Park which is across the street from the Capitol building. I couldn't really tell what was happening most the time in the race because the barriers were lined 5 deep for the last straightaway. It felt like the Tour de France.
Finishing circuit in Denver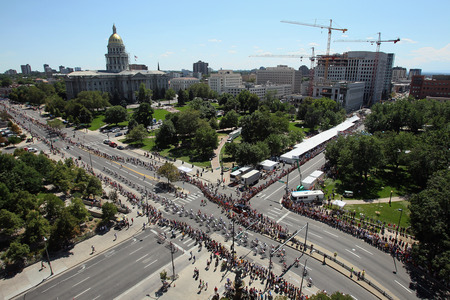 Aerial View of the finish
Riders going up Lookout Mountain
Just like the AToC Levi won the overall
This race was so much to watch that I can't wait until next year! The race got upgraded so there will be even more teams and riders next year. Hopefully one day I can race the USAPCC in my home state!
-Dean Haas